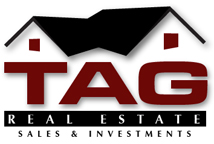 TAG Real Estate
Sales & Investments
CA DRE Lic#01795582

Direct: 760-815-6977

2982 Ora Avo Terrace.
Vista CA., 92084

Preferred Links
"TAG" Real Estate Sales & Investments
TAG Real Estate & Investments is an All-In-One, Turn Key Real Estate Sales, Property Management & Investment Company with myriad opportunities for RE Investors looking for a unique strategy in the distressed property arena.  As a Real Estate broker, licensed General Contractor & Manufactured Home Contractor, Dealer and Property Management Company we consolidate construction, marketing, sales, overhead & broker costs by offering an in house family owned and operated solution to any Real Estate Investment opportunity you may wish to embark on.
John Arendsen, Founder and Real Estate Broker of "TAG Real Estate Sales & Investments" has a 40 year history in buying, selling and building real estate, real estate management, Manufactured Housing and development. He started in the construction industry in 1986 whereupon he founded "On The Level General Contractors Inc" which he has subsequently sold his on, Scott Arendsen and daughter Janeene Arendsen-Lovell. He brings to the table decades of overall well rounded real estate, investment,  construction and Manufactured Home knowledge and development experience. He is also a construction industry expert, expert witness, consultant, and troubleshooter at large.
Joseph Arendsen, Founder and Principal of, San Diego Real Estate Today, www.sandiegorealestatetoday.com , John Arendsen's Nephew, is a very successful California licensed Realtor and has specialized in distressed property acquisitions and sales for several years but also engages fervently in traditional real estate sales and investments. He is the Founder and CEO of The Arendsen Group INC. and his years of experience has lead him to excellence when it comes to identifying, acquiring, evaluating and negotiating for properties that meet the overall buying criteria and exit strategies of The Arendsen Group INC.
Chad Arendsen, founder  and President of, Chad of All Trades INC, www.chadofalltrades.com, and John Arendsen's oldest son, started working in his Dad's construction company at the age of 13 during summers and holidays or when not in school and up to and through graduating from college in 2000. In 2001 a very ambitious Chad founded his construction company "Chad of All Trades Inc" where he continues to specialize in high end rehab, remodel, rebuild  and new build construction projects to this day. Chad brings to the table years of hands on, in the trenches, construction, architectural and landscape design experience on any construction project be it a Manufactured Home, High End Custom Home or a Commercial Tenant Improvement.
Kari Arendsen, founder and principal of INTIMATE LIVING INTERIORS  www.intimatelivinginteriors.com, and John Arendsen's 2nd  of three daughters, rounds out the team with her uncanny and unique architectural and interior design skills and experience. Kari has risen to the top of the design field and is respected by her colleagues and contemporaries and renowned and praised by her clients as one of the most innovative and creative designers in the industry and quite deservingly has risen to the top of her field in just a very few years.
John DL Arendsen is also the founder and CEO of ON THE LEVEL General Contractors INC www.onthelevelcontractors.com.
WE ARE ON THE LEVEL!
OnTheLevel is a One-Stop-Shop for lenders, Realtors, escrow, title officers, insurance companies and homeowners who are involved in a manufactured home loan, real estate transaction or need additional seismic and wind retrofitting. We have a national network of service professionals that can provide turn-key solutions for all your FHA/HUD foundation compliance needs.  And in California, we are experts at title perfection, working with the building departments and the Department of Housing and Community Development (HCD) to pull permits and record the 433A document (California Affidavit of Affixture), as well as Seismic Retrofitting using state certified Earthquake Resistant Bracing Systems.
CREST HOMES Manufactured Home Dealer & Developer, a division of ON THE LEVEL, is a "Factory Built Housing"  specialist. As an experienced Silvercrest Homes Dealer and Deeloper from beginning to end be it permit planning, site development, architectural design, engineering, landscape design and installation, transportation, home installation, misc ancillary construction to final inspection or rehab, remodel or rebuild. Crest Homes is a one stop turn key solution for any Manufactured Home requirement.
www.sandiegoreslestatetoday.com
Looking into Buying a Home in San Diego?
No matter where you are San Diego Real Estate Today can help you navigate and research the entire San Diego Real Estate Market.
Whether you looking to purchase a home for you and your growing family or looking for the perfect investment, www.sandiegorealestatetoday.com, is one of the most dependable online venues on the Internet. You can always depend on San Diego Real Estate Today to give you the most up-to-date and reliable Real Estate news in the San Diego Market. .
www.chadofalltrades.com
Chad of All Trades, Inc. is a licensed, fully insured, reputable and trustworthy San Diego general contracting company.  They provide full service design and build solutions, as well as professional handyman services.  At any time they are prepared to provide you with an expert in any construction related trade necessary to complete your project.  There is literally no job too big or too small for Chad of All Trades, Inc. and you can always expect:
On time arrival and completion of projects
Polite and skilled trades people
Budget consciousness
Innovative solutions
www.intimatelivinginteriors.com
Intimate Living Interiors . Kari Arendsen .
Interior Design Studio- 858. 436. 7127 . Cellular- 760. 473. 2791 . Solana Beach, CA .
"I knew I wanted to be an interior designer the minute the cobblestone streets of Paris took my breath away. The beauty of the old world architecture, the ivy covered buildings and the cozy outdoor cafés, gave me a deep sense of love and happiness". Kari studied Cultural Communications and Architecture at the University of Sorbonne in Paris, France and also has a Bachelor of Fine Arts from the Design Institute of San Diego. Kari has been honored for her designs, appearing in many print and online media such as Ranch and Coast, San Diego's Luxury Lifestyle Magazine, San Diego Home and Garden, Premier Magazine and The La Jolla Light.
www.onthelevelcontractors.com
OnTheLevel and Crest Homeswith 25 years of experience is a One-Stop-Shop for lenders, realtors, escrow, title officers, insurance companies and homeowners who are involved in any level of a manufactured home purchase, installation, loan or real estate transaction. They can provide turn-key solutions for any/all "Factory Built" housing issues.
http://www.silvercrest.com/
Silvercrest Online was designed especially with YOU in mind. Within these pages there are many exciting HOMES for your review. You will find information on Retailers and Community Developments in the Western States that offer our homes. We ship as far east as Colorado. Take the time to visit our model homes and see the possibilities for a new and exciting home for your future. We build personalized homes for the individual home buyer available through the Silvercrest Retailer Network, as well as Homes for builders/developers….
www.surfline.com
If you're a surfer looking for some of the greatest waves on anyone of many beautiful sandy beaches with the best year around climate and surf conditions in the entire World you need an online service you can always count on to give you the most up-to-date and factual surf reports on the Internet.
www.etrade.com
Looking for the most current and factual hands on experience in managing your money. Let TAG plug you into what's happening in the financial world in just seconds
www.surferspoint.com
Welcome to Surfer's Point, your new ocean-front vacation destination. Located just north of San Diego in beautiful Encinitas, California, Surfer's Point is filled with all the comforts of home and all the advantages of a resort retreat.
Private residences allow you to relax on your own schedule, whether it's waking up to spectacular ocean views or getting out and enjoying the very best the Southern California lifestyle has to offer, Surfer's Point has it all.
No comments yet.
Leave a comment!
You must be logged in to post a comment.